"Dhanaulti is a magnificent hill station, here are top reasons why you should visit Dhanaulti this year and what is the most luxurious hotel in Dhanaulti to stay in, So let's dive in!!
Dhanaulti is a small town, a graceful hill station, just 24 km from the most popular hill station of Mussoorie and 31 km from Chamba (Uttarakhand).
If you are planning for an ideal summer or winter trip in Uttarakhand, then the easy answer is the perfect destination in India is Dhanaulti with hotels and resorts.
Though if you still need to be satisfied as to why Dhanaulti should be your next holiday destination.
This is what we are continuing to discuss here.
In this blog, we are going to consider reasons why Dhanaulti is the best hill station in India and what is the best resort in Dhanaulti?
So, without wasting a fraction of a second, let's scroll down and explore some of the top reasons why it is worth visiting!!
1 Eco Park In Dhanaulti 
Covered with dense greenery and the fresh and sweet fragrance of the Oak trees and Deodar trees, this park is one of the most popular tourist attractions in Dhanaulti and is spread over 13 hectares.
Eco Parks in Dhanaulti is among the most famous attractions as they offer astounding sunrise views, peace as well as many fun activities like ziplining, mountain biking, hiking & rappelling among others.
This is a perfect place for everyone particularly for your loved ones, right from couples, families with kids, or friends.
In this park, there is also a system of memory sapling under which you can plant a sapling in the park in memory of your loved ones. The Eco-park will make you feel rejuvenated as soon as you step in.
2 Kaudia Forest
A fabulous picnic spot, the Klaudia Forest is renowned for hiking and its beautiful dense greenery. It is amazing if you are into wildlife and nature photography. You can take a jeep safari in the forest where you will be able to encounter the most gorgeous flora, fauna, and natural springtimes.
3 Experience The Adventure 
Dhanaulti is a fabulous place to experience both leisure and adventurous experiences. Blessed with towering high hills, snow-capped mountains, and astonishing views, it is the place for a wealth of adventurous sports and activities.
The adventure parks in Dhanaulti take full advantage of the rugged and varied landscapes of this destination, ziplining by forest bushes, rappelling down majestic mountains, trekking, and many more. It offers a variety of exciting and adrenaline-filled adventures, including thrilling outdoor camping.
4 Kanatal Adventure Camp
A vacation that offers adventure, as well as relaxation and comfort in Dhanaulti, is a Kanatal adventure camp is the best choice. This camp is one of the most popular tourist attractions in the region (located on Mussoorie-Chamba road) with state-of-the-art facilities. Add to this, the simple yet delicious food served here will make your visit here memorable. 
You can also like many outdoor activities such as valley crossing, bonfires along with trekking, rock climbing, and many more at this super adventurous camp. In a nutshell, there is no way you can miss touring the Kanatal adventure camp.
5 Deogarh Fort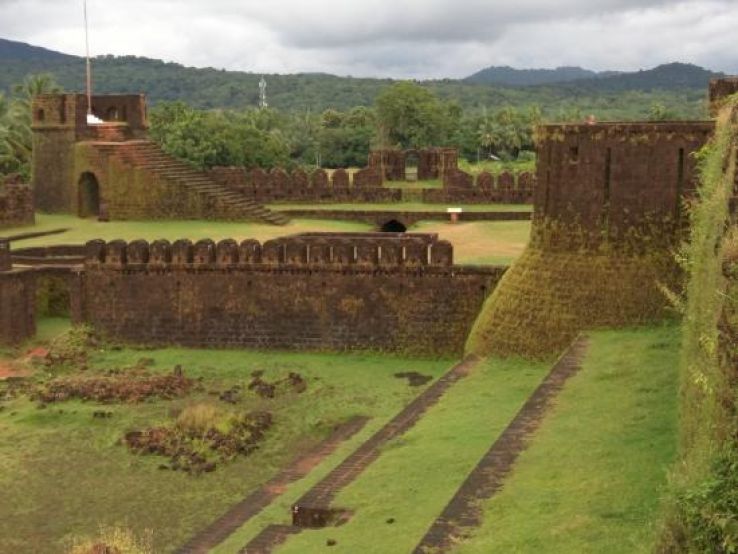 Deogarh Fort is another one of the renowned attractions in Dhanaulti, as old as the 16th century and the fort has many fascinating palaces and has various murals. The place also has a number of Jain temples in and throughout the area.
It is huge and we assure you that no matter how many times you tour the fort you will never get enough of it. This fort is an ideal must-visit when you travel to Dhanaulti!
6 Luxurious Glamwood Resort 
"Experience Life midway the Valleys at this luxurious hotel in Dhanaulti"
Glamwood Resort in Dhanaulti is one of the top resorts in Dhanaulti to experience a refreshing beauty of nature that you are undoubtedly going to love!!
It is situated in the magnificent Himalayas and placed with beautiful vistas of mountains. Abounding with wildlife and bathed in clouds with brilliant sunshine, the resort is decorated with spectacular views and rich interiors. Let the pure and refreshing air & the pure water rejuvenate you.
Our Resort in Dhanaulti has Classic rooms, Luxurious rooms, Elite rooms, and a Royal Family room with a balcony in each room with around the clock power backup facilities
If you are seeking some adventure, recreation, peacefulness, and relaxation, in the midst of spectacular snow-topped mountains, you ought to visit Dhanaulti at least once in your life…!!
"Dhanaulti with its natural elegance is truly more beautiful than you can actually imagine".
These are the top reasons why you should plan a trip to Dhanaulti. If you're an adventurer and explore beautiful traveling destinations, then Dhanaulti is the only answer to your next trip!!
Also Read – HIDDEN GEM OF UTTARAKHAND – DHANAULTI HOTEL WITH ADVENTURE
FREQUENTLY ASKED QUESTIONS (FAQs)
Where is Dhanaulti Located?
This beautiful hill town is in the state of Uttarakhand. To reach the hill station of Dhanaulti, you have to take the Mall road at Mussoorie and you will reach Dhanaulti in nearly an hour.
When to Go To Dhanaulti?
What is the point of going to a hill station if you can't experience it at its best? We recommend you to go to Dhanaulti during the winter season to see the magnificent place at its best.
What is the best resort in Dhanaulti in India to stay in?
Glamwood resort is one of the top hotels in Dhanaulti in India with premium quality luxurious facilities at the very best prices. 
What are the must-visit places in Dhanaulti?
Dhanaulti is the destination for adventurers and explorers that will suit all interests and tastes! There are amazing parks, temples, forts, and numerous other magnificent places to visit such as eco-park, Kaudia forest, Dhanaulti adventure parks, etc.